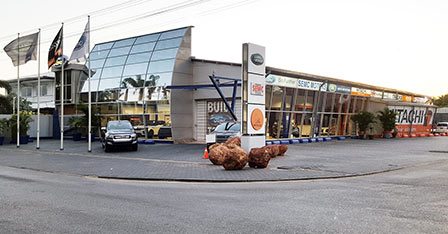 N.V. Suriname Earth Moving Contractors (SEMC) is an earth moving company that was established in 1991.
Eric van Ravenswaay, the owner and managing director, started Suriname Earth Moving Contractors as a small business in 1991 with only three Hitachi excavators, one Bulldozer and twelve employees.  and has, Since then SEMC has grown to become the largest local  Earthmoving contracting company in Suriname. Now, 20 years later, it has grown to a workforce  of more than  450 employees!
SEMC mainly concentrated its activities on the mining sector which at that time, showed some new opportunities at the horizon. In the gold sector Golden Star Resources at Gross Rosebel and Lawa Antino was starting to show a lot of promise. And in the Bauxite mining sector, mainly dominated by Billiton and Suralco, SEMC had also established itself as a reliable contracting company for heavy equipment.
In its 20+ years of experience within the industry, SEMC has extensive experience in:
Mining Activities

Bush clearing
Overburden removal
Mining
Rehabilitation of mined areas

Civil Engineering Works
Infrastructure Works

Road construction and maintenance

Mission
SURINAME EARTH MOVING CONTRACTORS N.V. has set the goal to deliver services to the highest standard in order to continuously meet customer requirements. Besides striving for efficiency and productivity, one of our highest business goals is to ensure the safety, health and welfare of our workers, as well as care for the environment.


Vision
Suriname Earth Moving Contractors N.V. aims  to continuously meet the stringent requirements of current and future customers and perform at World Class Standards in order to improve its position as an preferred efficient, productive and safe business Partner.  This by maintaining regular evaluation and improvement of our strategies, policies, production and management. It is of importance to us to expand our client base and to offer our services at regional and international levels. 
Suriname Earth Moving Contractors N.V.  has been certified to international quality and Safety standards (ISO 9001 and OHSAS 18001) since 2006.  Active from May 2010 we are also (Environment )  ISO 14001 Certified.
Our Trading division SEMC Hardware was established in 1996 as the main supplier for heavy equipment and parts and has proven to be a reliable representative of Hitachi, MAN and other equipment brands not only for SEMC but also for several local companies and contractors. Since the quality of the services of our major supplier is guaranteed, this has given SEMC the advantage that parts supply, technical support and training is kept at an arm's length. This of course is also a benefit for the other customers from SEMC Hardware.
SEMC invests heavily in its personnel and equipment to serve our customers at World Class Standards. You can rely on us for every Earthmoving Challenge, no matter how complicated it may be.
Challenges are considered as an important part of our job!

ISO Certificates